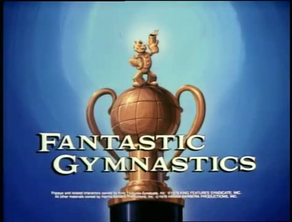 "Fantastic Gymnastics" is an episode from The All-New Popeye Hour's "The Popeye Sports Parade" segment for Hanna-Barbera Productions in association with King Features Syndicate. It first aired on December 3, 1979 and was directed by Ray Patterson and Carl Urbano. Popeye was voiced by Jack Mercer, Olive was voiced by Marilyn Schreffler, Bluto was voiced by Allan Melvin and Wimpy was voiced by Daws Butler.
Plot
Popeye demonstrates great gymnastic skills while delivering spinach pizzas and is recruited into Olive's team for the upcoming gymnastics competition. After spying on this, rival team leader Bluto phones asking for pizza and sends the sailor driving all the way to the Sahara desert. However, Popeye gets back around the world and defeats Bluto in spectacular fashion after eating one of his own spinach pizzas.
Gallery
Episode details
This segment was aired in season 2, episode 13 of The All New Popeye Hour. Below is a list of the other segments for this episode.
External links
Community content is available under
CC-BY-SA
unless otherwise noted.