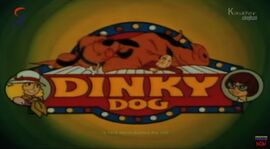 Dinky Dog is an animated television series from Hanna-Barbera that complemented Popeye in the CBS show The All-New Popeye Hour, between 1978 and 1981. It is an original series and unrelated to E. C. Segar's creations.
Plot
The series stars the voices of Julie Bennett as Monica, Jackie Joseph as Sandy, Frank Nelson as Uncle Dudley and Frank Welker as Dinky the dog. It tells about two sisters that buy a tiny puppy at the pet store, the dog soon growing to enormous size and continually and unintentionally causing chaos and destruction in and around the house, to the ire of Monica and Sandy's Uncle Dudley. Episodes also saw the four main characters go sailing around the world, giving Dinky the chance to wreak havoc internationally.
This format lasted until 1981, when the Popeye Hour was shortened to a half-hour and renamed The Popeye and Olive Comedy Show. At this point, Dinky was spun off from its 11-minute segment to a show of its own, packing two 11-minute installments per half-hour episode.
Episodes
No
Title
Airdate
1
"To Boo or Not to Boo"
September 9, 1978
2
"Dinky, Ahoy"
September 16, 1978
3
"Dinky at the Circus"
September 23, 1978
4
"Dinky's Nose for News"
September 30, 1978
5
"Camp Kookiehaha"
October 7, 1978
6
"Foggy Doggy"
October 14, 1978
7
"Dinky the Movie Star"
October 21, 1978
8
"Attic Antics"
October 28, 1978
9
"Heap Cheap Hotel"
November 4, 1978
10
"Bark in the Park"
November 11, 1978
11
"Flabby Arms Farm"
November 18, 1978
12
"The Bow-Wow Blues Band"
November 25, 1978
13
"Easel Does It"
December 2, 1978
14
"

Dinky at the Bat

"
December 9, 1978
15
"

Phi Beta Dink

"
December 16, 1978
16
"

Abominable Dinky

"
December 23, 1978
17
"

Dinky and the Caveman

"
January 6, 1979
18
"Rinky Dinky"
January 13, 1979
19
"

Bad Luck Bow-Wow

"
January 20, 1979
20
"

A Hair of the Dog

"
January 27, 1979
21
"

Sir Dinky Dog

"
February 3, 1979
22
"

First Prize Pooch

"
February 10, 1979
23
"

Department Store Dinky

"
February 17, 1979
24
"

A Hop and a Dink

"
February 24, 1979
25
"

Castaway Canine

"
March 3, 1979
26
"

Gondola, But Not Forgotten

"
March 10, 1979
27
"

Like It or Lamp It

"
September 10, 1979
28
"

Lochness Mess

"
September 17, 1979
29
"

There's No Place Like Nome

"
September 24, 1979
30
"

Buckingham Bow Wow

"
October 1, 1979
31
"

Rockhead Hound

"
October 8, 1979
32
"

Tree's a Crowd

"
October 15, 1979
External links