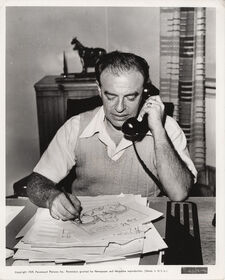 Dave Fleischer (1894-1979) is best known as a co-owner of Fleischer Studios with his older brother Max Fleischer.
Dave Fleischer was notable during the brothers' early days as the rotoscope model for their first character, Koko the Clown. He went on to become director and later producer of the studio's output. Although he is credited as "director" of every film released by the Fleischer studio from 1921 to 1942, the lead animators actually performed directorial duties, and Fleischer mainly served as producer. Among the cartoon series Fleischer supervised during this period were Talkartoons, Betty Boop Cartoons, Popeye, Color Classics and several others; the Fleischer Popeye would go on to be the top rival of Mickey Mouse.
Trivia
In April 1942, Fleischer, no longer able to cooperate with his brother, left the company to become President of Screen Gems at Columbia Pictures, although he remained co-manager of Fleischer Studios until Paramount reorganized the studio in May 1942, after Max and Dave's contracts expired.
External links