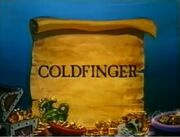 "Coldfinger" is an episode from The All-New Popeye Hour's "Popeye's Treasure Hunt" segment for Hanna-Barbera Productions in association with King Features Syndicate. It first aired on January 6, 1979. The producer was Art Scott and it was directed by George Gordon, Carl Urbano and Rudy Zamora. Popeye was voiced by Jack Mercer, Olive Oyl was voiced by Marilyn Schreffler and Bluto was voiced by Allan Melvin.
Plot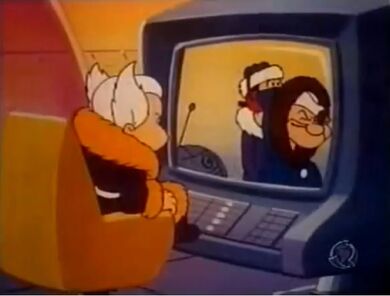 The evil master villain Coldfinger has shot down a United States satellite and is holding it for ransom. The President calls Popeye on his special hotline for help. Popeye and Olive sail off at once for Coldfinger's hideout in the North Pole. Bluto hears about the hunt for the satellite and plans to get it before Popeye.
Bluto tries several tricks to get Popeye out of the way. Coldfinger can see everything from his surveillance system, too, so he tries to stop Popeye as well. It takes a shot from Coldfinger's freeze ray and Bluto's oil slick to throw Popeye and Olive overboard; this, however, does not stop them for long because they land on a sheet of ice and surf to safety.
After that, Popeye and Olive ski to the North Pole while Coldfinger and Bluto keep trying to stop them. Bluto tries to crack the ice to make them fall into the icy waters below, and Coldfinger uses his robot henchman to stop them. Neither plan can succeed before Popeye recovers the satellite. Coldfinger zaps them and the satellite with his freeze ray and orders his robot henchman to bring them to him.
Bluto follows them to Coldfinger's stronghold to get the satellite for himself. Popeye eats his spinach to free himself and olive from the ice, blow up Coldfinger's lair and throw the satellite back into orbit. The President thanks Popeye for his services to the country.
Trivia
This episode is a parody of the James Bond movie Goldfinger.
Gallery
Episode details
This segment was from episode 17 in the series, aired in season 1, episode 17 of The All-New Popeye Hour. Below is a list of the other segments for this episode.
External links