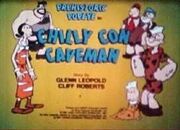 "Chilly con Caveman" is an episode from The All-New Popeye Hour's "Prehistoric Popeye" segment for Hanna-Barbera Productions in association with King Features Syndicate. It first aired on September 19, 1981 and was directed by George Gordon, Carl Urbano and Rudy Zamora. Caveman Popeye was voiced by Jack Mercer, Cavewoman Olive was voiced by Marilyn Schreffler and Caveman Bluto was voiced by Allan Melvin.
Plot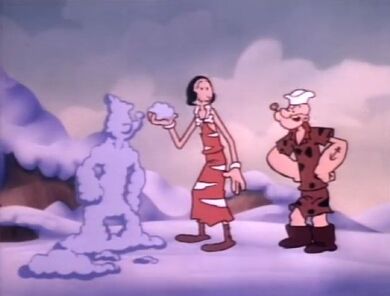 Caveman Bluto discovered white powdery snow. Caveman Popeye and Cavewoman Olive realize that this snow cools off the cave that they are in.
Episode details
This segment was from episode 2 in the series, aired in season 1, episode 2 of The Popeye and Olive Comedy Show. Below is a list of the other segments for this episode.
External links