Jurassic World: Dominion Dominates Fandom Wikis - The Loop
Play Sound
Chester, Illinois is the home town of E. C. Segar, a city located in Randolph County, Illinois, United States. It provided much inspiration for Segar's Thimble Theatre comic series, with individuals Frank "Rocky" Fiegel, Dora Paskel and J. William Schuchert inspiring characters such as Popeye, Olive Oyl and J. Wellington Wimpy, respectively.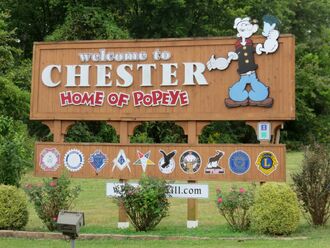 Chester is known as the "Home of Popeye", where a 6-foot (1.8 m), 900-pound (410 kg) bronze statue of Popeye the Sailor Man stands in the Elzie C. Segar Memorial Park, which honors Popeye's creator. The park is located next to the Chester Bridge. Chester's biggest event is its annual Popeye Picnic and parade, held the weekend after Labor Day. Popeye fans travel from all over the United States and the world to partake in the weekend activities. Most of the events and entertainment are free and family friendly.
Since 2006, new statues honoring the other Thimble Theatre characters are added each year.[1] This character trail is spread throughout Chester and includes:
Popeye's Picnic and Parade
Popeye's Picnic is an event that takes place in Chester for three days out of the year. It takes place in the month of September and consists of rides, food stands, music, amateur wrestling matches, and fireworks. In the past there were talent shows and ghost tours, an airplane show, a bazaar at St. John's Lutheran School, a small petting zoo, horseback rides for children, a sand sculpture representing the theme of that year's picnic, and more. The Popeye Parade is held on a Saturday morning. Before the parade there is a walk and run for anyone who wants to participate in it. Medals and trophies are awarded for the top runners and walkers in each age category. A Popeye t-shirt is included with each entry. Many people from different towns participate in the parade. The parade consists of local school bands, band fronts, such as dance teams and cheerleaders, floats from various businesses, fire departments, veterans representing the United States, politicians marching, clowns passing out stickers and candy, and finally horses trail the parade. Many people and businesses help sponsor the picnic and donate money and time to make it possible.[2]
Sources
External links