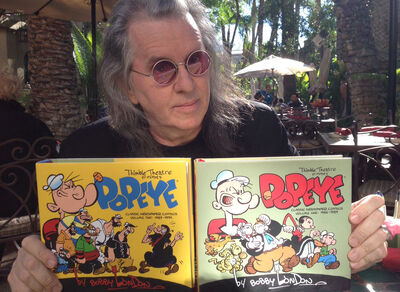 Robert "Bobby" London (born June 29, 1950 in Brooklyn, New York) is an American underground comix and mainstream comics artist. London created his underground newspaper comic strip Merton in his native New York in 1969, and the raunchy Dirty Duck strip in 1971. Dirty Duck, originally published in underground books and magazines, moved to National Lampoon, where it was a regular monthly feature until 1976. It continued to run in Playboy for over 25 years. London also had other comix work published in various underground magazines.
In 1978, London won the Jury Yellow Kid Award for Best Artist-Writer.
Beginning in 1986, London wrote and drew the Popeye syndicated daily comic strip for King Features Syndicate until 1992, when he was fired for doing an allegory about abortion.[1]
London's full Popeye run was eventually reprinted by IDW in 2014, as the two-volume "Popeye: The Classic Newspaper Comics by Bobby London".
References
External links