This is a story from Popeye, the original series published by Dell in 1948. The series was later renamed to Popeye the Sailor as it continued with other publishers. It has also been reprinted in other comic books by other publishers since then.
"Black Jack"
Credits
| | |
| --- | --- |
| Writers: | Bud Sagendorf |
| Pencils: | Bud Sagendorf |
| Inks: | Bud Sagendorf |
| Colors: | Bud Sagendorf |
| Letters: | Bud Sagendorf |
Synopsis
Popeye's ship is anchored in a small harbor on the coast of Africa and he has gone ashore to resupply. Poopdeck Pappy is reading Swee'Pea a bedtime story about Black Jack the Pirate. Pappy closes the book at the point where Black Jack captures a merchant ship and was making her captain walk the plank. Surprisingly, the sleepy little fellow does not protest even while faced with such cliffhanger. With the youngster asleep, Pappy gets himself a cup of coffee and continues to read the book alone.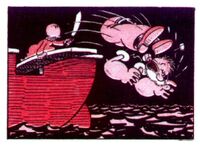 He suddenly feels a sharp jab in his back and hears Swee'Pea talking like a pirate. The old seaman is in no mood to play games, but the boy jabs the butcher knife in his hand a bit harder and forces Pappy out onto the deck. The small pirate orders Pappy to place a plank over the stern and the old man realizes that the boy is sleepwalking. Pappy tries desperately to wake the child, but is shoved off the end of the plank. Luckily, Popeye has already returned from town and the old man lands in his rowboat. He explains the situation and they sneak aboard to stop 'Pirate Swee'Pea'.
This is not the first time his boy-kid has walked in his sleep, so Popeye knows it is not safe to let him go back to bed with pirates on his mind. Pappy sits the boy in his lap and continues to read the story to him. Since he has read the ending earlier, he knows that Black Jack is defeated by the merchant ship's captain and is hanged. When he finishes the book, he is certain that Swee'Pea will not dream of pirates for the rest of the night.
Last Updated: 10/16/2018
Community content is available under
CC-BY-SA
unless otherwise noted.