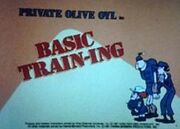 "Basic Train-ing" is an episode from The All-New Popeye Hour's "Private Olive Oyl" segment for Hanna-Barbera Productions in association with King Features Syndicate. It first aired on November 14, 1981. Sergeant Bertha Blast was voiced by Jo Anne Worley, Olive was voiced by Marilyn Schreffler and Colonel Crumb was voiced by Hal Smith.
Plot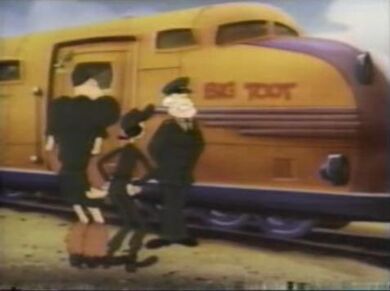 Private Oyl and Private Goon are getting on Sergeant Blast's nerves again and she has them polishing the flag pole to keep them out of her hair. It does not work so Colonel Crumb gives them the task of cleaning the new super silent troop train for the big army show. This ends up causing even more headaches for the Sergeant.
As they are cleaning the train, Alice starts the engine and it takes off down the track with them still in it. The train continues out of control until it finally comes to a stop when it destroys some old buildings. The Colonel is pleased they demolished the buildings because they were on the site where the new train station would be built.
External links