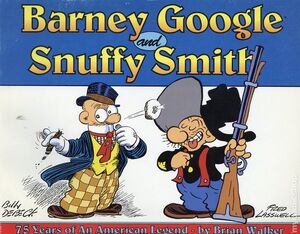 Barney Google and Snuffy Smith are the titular protagonists from an American comic strip created in 1919 by cartoonist Billy DeBeck. Barney is a sophisticated type, a sports and gambling enthusiast and owner of the feeble racehorse Spark Plug. Snuffy Smith appeared later, whom Barney met and became close friends with, then eventually came to dominate the series. Snuffy is a diminutive, rough hillbilly type who lives in the remote community of Hootin' Holler with his rotund wife Loweezy, his young nephew Jughaid and his infant son Tater.
In 1971, Snuffy Smith starred in a back-up feature in the Popeye comic book. Also, in 1972, he (along with Loweezy and Spark Plug) was among the various King Features characters to appear alongside Popeye in the television movie Popeye Meets the Man Who Hated Laughter.
A further crossover occurred in 2013, with the twelfth and final issue of IDW Publishing's Popeye comic book having Barney Google as a guest star. Barney loses his horse in a card game against Castor Oyl then participates in a race to win Sparky back. Thanks to Wimpy, however, he does so with a cow for a racehorse.
External links
Characters