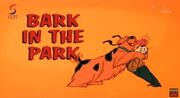 "Bark in the Park" is an episode from The All-New Popeye Hour's "Dinky Dog" segment for Hanna-Barbera Productions in association with King Features Syndicate. It first aired on November 11, 1978 and was directed by Ray Patterson and Carl Urbano. Monica was voiced by Julie Bennett, Sandy was voiced by Jackie Joseph and Uncle Dudley was voiced by Frank Nelson.
Plot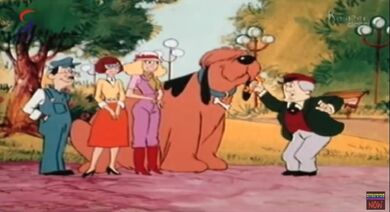 Uncle Dudley is angry at Dinky again, this time because he destroyed the plumbing. This means that Monica and Sandy have to find jobs once again to repair the damage. Luckily for them, they are walking through the park when they are offered a job. They are asked to get the park ready for the new playground dedication by the mayor. Their duties are to pick up trash, prepare the stage and set up chairs (three times, because Dinky keeps knocking them down). They also help test the sound system and blow up balloons before Dinky ruins the mayor's speech.
Before the mayor can start his usual long, boring speech, Dinky knocks him off the stage and he flies all around the playground equipment. After bouncing off the teeter-totter, slide, jungle-gym and swing, he begins to scold the girls. However, a park official runs up and stops him to congratulate him for his fabulous dedication. The whole audience liked the mayor's 'demonstration' of the playground equipment much better than one of his speeches. The mayor is so happy that he gives Dinky the key to the city.
Episode details
This segment was from episode 10 in the series, aired in season 1, episode 10 of The All-New Popeye Hour. Below is a list of the other segments for this episode.
External links