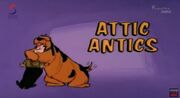 "Attic Antics" is an episode from The All-New Popeye Hour's "Dinky Dog" segment for Hanna-Barbera Productions in association with King Features Syndicate. It first aired on October 28, 1978 and was directed by Ray Patterson and Carl Urbano. Monica was voiced by Julie Bennett, Sandy was voiced by Jackie Joseph and Uncle Dudley was voiced by Frank Nelson.
Plot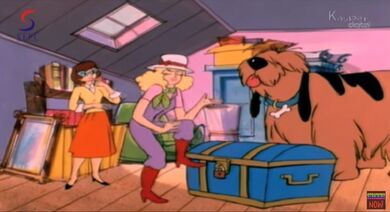 Uncle Dudley receives a telegram informing him that his rich Great Aunt Hortense is coming for a visit. He is trying to impress her so she will leave him everything in her will. She intends to leave her fortune to the neatest, quietest relative with the most orderly home life, and she absolutely cannot stand dogs. Sandy has the clever idea to clean out the attic so that they can hide Dinky up there during Hortense's visit.
Dudley's Aunt arrives with her cat Gwendolyn and Dinky immediately starts running uncontrollably around the yard with a moose head stuck over his head and Sandy on his back. Monica convinces her that Sandy is having her riding lessons on a 'morse', a very rare cross between a moose and a horse. Next, Dinky makes a big commotion chasing Gwendolyn through a Giant pile of clothes. Sandy explains that Dinky, now wearing a dress and a big floppy hat, is Mrs. Dinkly who is there to give the girls a dance lesson.
Hortense is impressed that the girls are being brought up properly with riding and dancing lessons like she had while growing up. However, Dinky cannot be kept out of sight forever and he is eventually discovered. Aunt Hortense is outraged by the deception until Dinky reveals a trunk with the name "Hortense Holmby" on it. Inside is memorabilia from her former stage engagement as "Hortense the Dancing Dog".
Aunt Hortense confesses that she does not really hate dogs. She further admits that she was only trying to forget about her previous career. Hortense is so happy that Dinky helped her to finally reveal her past, that Dudley is convinced he will get her inheritance. However, she plans to leave it all to the Home for Needy Dogs instead.
Episode details
This segment was aired in season 1, episode 8 of The All-New Popeye Hour. Below is a list of the other segments for this episode.
External links