Not to be confused with Abusement Park.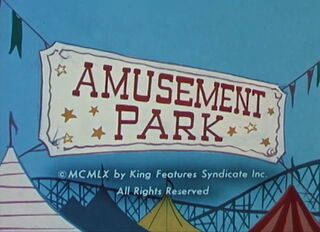 "Amusement Park" is an episode of the King Features Syndicate series Popeye the Sailor. It first aired in 1961.
Plot
Brutus kidnaps Swee'Pea and sells him to an amusement park freak show.
Characters
Notes
This episode first aired January 7, 1961
Directed by Seymour Kneitel
This is one of 63 episodes produced by Paramount Cartoon Studios for the Popeye the Sailor TV series.
External links