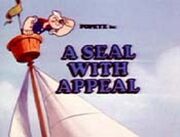 "A Seal with Appeal" is an episode from The All-New Popeye Hour's "The Adventures of Popeye" segment for Hanna-Barbera Productions in association with King Features Syndicate. It first aired on October 14, 1978 and was directed by George Gordon, Carl Urbano and Rudy Zamora. Popeye was voiced by Jack Mercer, Olive Oyl was voiced by Marilyn Schreffler and Bluto was voiced by Allan Melvin.
Plot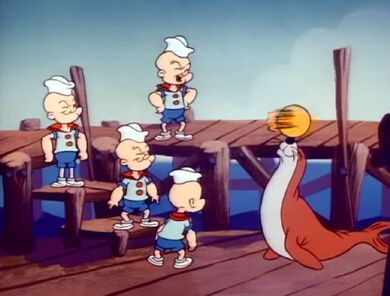 Popeye and his nephews are sailing on his boat. The boys lose their ball overboard. The ball is retrieved by a friendly seal. They ask Popeye if they can keep it as a pet. Popeye agrees as long as it stays outside. The boys bring the seal inside the house and try to hide it. Popeye keeps seeing the seal inside and is very upset.
Among all of the chaos, a ship in a bottle falls into the ocean. This ship in a bottle is one of Popeye's most prized possessions. The seal eats Popeye's spinach and saves it for him. Popeye is so grateful he allows the seal to come inside once in a while as a reward.
Episode details
This segment was from episode 6 in the series, aired in season 1, episode 6 of The All-New Popeye Hour. Below is a list of the other segments for this episode.
External links