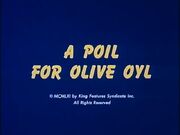 "A Poil for Olive Oyl" is a 1961 episode of Popeye the Sailor.
Plot
Popeye and Olive Oyl are walking around the street, looking for a birthday present for her. Olive sees a fur coat, but Popeye says it is one of those phony furs that fall apart when worn. Olive takes notice of a pearl necklace and they enter the store, however, they are shocked that the necklace costs a lot of money. Instead, they take to the seas to find pearls to make their own necklace. Popeye dives into the water, and collects pearls. However, the Sea Hag warns Popeye to get out, since the pearls belong to her. She orders her dogfish to chase him, but the sailor calls a catfish to scare away the dogfish. Popeye collects more pearls, but is chased by several swordfish. Olive then eats some spinach and strikes the Sea Hag down the ocean floor. Popeye stops the swordfish with electric eels. He finds Olive stuck in the hole she made while punching the Sea Hag so hard, she must be halfway to China. Popeye gives Olive a pearl necklace of his own making, saying "happy birthday!"
Notes
This episode first aired September 11, 1961
Directed by Seymour Kneitel
This is one of 63 episodes produced by Paramount Cartoon Studios for the Popeye the Sailor TV series.
This episode is available from Warner Archive on the Popeye the Sailor The 1960s Classics Volume One DVD set.
External links